Our Cloud Publishing Services
Whether you're an insurance carrier or a general agency, the process of managing, distributing, completing, and publishing electronic documents and forms can be a tedious and time-consuming process to support and maintain.  Organizing and delivering form updates to each agency is largely a manual process, and very few standards of automation exist today to reduce keystrokes for the agency.  Additionally, mechanisms to push completed policy data back to the agency and carrier admin systems tend to be fragile with very little consistency in regards to data formatting and transport mechanisms.
To address these problems, we're introducing a cloud-based publishing service to streamline the process of managing and publishing documents and forms. This service is designed to connect carriers with agents securely in the cloud, allowing carriers to push forms immediately to the agent, while allowing the agent to conduct business with the carrier directly or via web-services integration. Additionally, our solution also opens the door for third-party solutions to participate directly in the document-publishing life-cycle by pushing data directly to the documents and forms via web-service. As a result, our service enables carriers and agencies to use their existing Oracle Documaker PPS/Docucorp forms and resources, without all of the complexities & costs typically involved in maintaining these systems in-house.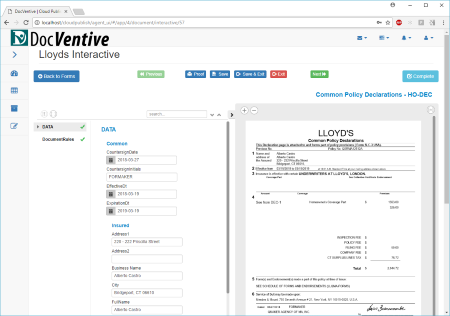 Document publishing in the cloud with secure access to forms, work-in-process, and import features.
Immediate access to new form editions once approved and distributed by the company.
WYSIWYG manual data-capture capabilities.
Work-in-process (WIP) capabilities for save for later and routing.
Support for required fields.
Support for state stamps & signatures.
Manual or data-import capabilities (Docucorp V2, XML, other formats).
PDF, XML document generation and delivery.
All recipient publishing options.
Support for Oracle Documaker PPS/Docucorp forms and resources, other non-Docucorp forms systems.
Instant deployment of new form editions.
No library maintenance required by the agencies.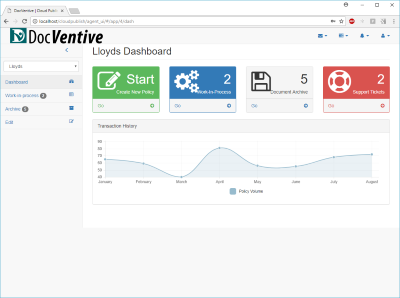 Web-services support for straight-through processing or direct import to work-in-process for manual completion.
Automated document publishing to PDF, XML, HTML, PCL, other formats.
Support for custom import formats.
Library interrogation via web-service (forms, fields).
Access to archived documents for re-prints, exports, data-merge to new documents.
Analytics Dashboard provides quick and easy access to detailed reporting on historical document data.
Detailed document metrics break-down by line-of-business, state, region, 80/20 analysis and more.
Available as a stand-alone capability for companies interested in archive-only cloud hosting.
Historical document data available for mass export via web-service.