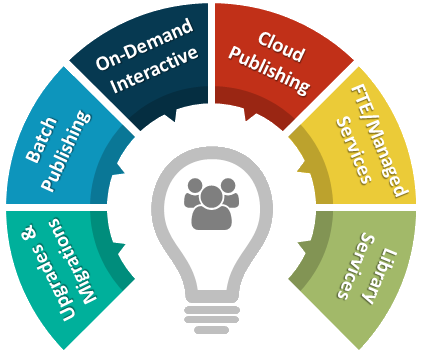 A
t DocVentive, we're a group of familiar faces with decades of experience and a proven track record of implementing mission-critical solutions and developing innovative products and cloud-based document automation systems for the Utilities, Insurance, Financial Services, and Public Sector markets. An authority in CCM and document automation solutions, we recognize that our customers need reliable and cost-effective assistance with their enterprise content management solutions.  Our staff of subject matter experts has decades of experience assisting organizations of all sizes realize their publishing and document automation objectives.
Our core service areas include:
Upgrades & Migrations – upgrades to existing systems and conversions of legacy publishing applications such as Documerge, Calligo/IStream and Cobol line-print to newer document automation solutions such Documaker, Exstream, Quadient, Smart Communications and others.
Batch Publishing – implementation of high-volume batch print systems for statement generation, policy production and other needs.
On-Demand/Interactive – design and development of on-demand and interactive solutions to satisfy ad-hoc and immediate print needs such as claims letter creation and more.
Cloud Publishing – subscription-based cloud publishing services for all industry needs ranging from fully-automated document production to fully-interactive manual document creation.
FTE/Managed Services – turnkey services to manage your document automation infrastructure including health monitoring, incident management, patch management and more.
Library Services – comprehensive library creation, management, and support services to ensure that your CCM platform is always working the the latest forms and documents.
All of the above services are available across the following practice areas:
What places us above the competition:
Private Organization – as a privately-held organization, we're not bound by financial constraints that prohibit other organizations from discounting labor rates.
Flexible Rates – we offer flexible pricing arrangements that can work best for you and your project (T&M, fixed-price, FTE).
On-shore Resources – we have an experienced team of on-shore SME's that handle project delivery and can leverage an off-shore component for larger projects where specific tasks can be organized into a factory pattern for cost savings.