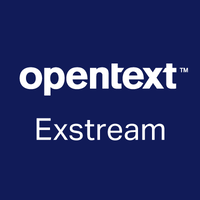 O
penText Exstream, a Customer Communication Management (CCM) suite, provides a highly flexible and scalable environment for event-driven integration to source systems, delivers communications through a multitude of channels and protocols, and orchestrates communication production jobs across a broad variety of industry verticals.
Exstream was originally founded by Dialogue Software in Lexington, Kentucky in 1998 and acquired by Hewlett-Packard in 2008.  OpenText, one of the largest independent software provider for Enterprise Information Management (EIM) solutions, acquired Exstream from Hewlett Packard in 2016.
What is Customer Communications Management
Customer communication management (CCM) is a planned strategy that enables organizations to design, manage & deliver all outbound communications across multiple delivery channels. A future-proof customer communication strategy allows an organization to deliver exceptional, continuous and connected communications and gain real-time insights into customer behavior.
This translates into a power-packed customer experience that increases engagement, drives revenue and promotes customer lifetime value.
Batch Publishing
Structured output – runs in batches, often in large volumes.
Includes:  periodic bills, statements, invoices, policies, regulatory and other correspondence.
On-Demand Generation
Real-time communications based upon event triggers or actions from self-serviceable customer communications and call center agents.
Includes:  real-time document requests via web/email/SMS, online bill generation, statement generation.
Interactive Communications
Ad hoc documents created by custom content or data with pre-set structures.
Includes:  ad hoc letters, real-time quotes, custom query/response correspondence.
Why DocVentive
Our team of subject matter experts are proficient with all OpenText Products, including Exstream, Delivery Manager, MessagePoint, Live and Empower Editors, and Remote Collaboration.  With our deep experience, we can help you to achieve the following:
Omni-Channel Communication:
Ensure consistent branding across multiple channels.
Deliver communications like statements, letters, notices, forms, etc. to customers' preferred delivery channels.
Enable personalized and targeted marketing campaigns to drive new business initiatives.
IT and Operational Efficiency:
Streamline all communications templates to reduce dependency on IT for any changes.
Optimize digital experiences while reducing dependency on paper-based communication.
Automate workflows and processes to reduce operational overhead and inbound call volumes.
Regulatory Compliance:
Centralize all forms/communications for maintaining compliance and consistency.
Enable digital forms-based processing along with e-Signature integration to fasten on-boarding and other business processes.
Ensure various departments comply with all legal requirements.
Our OpenText Exstream Competencies
Proficiency in handling Templates, Pages, Documents, and Applications for Maintenance and Development assignments.
Extensive experience handling input drivers – XML, columnar, delimited, ODBC data-sources.
Experience handling Reports, References, Initialization, and Auxiliary layouts.
Extensive knowledge of variables, data-mapping, and associated functions.
Extensive experience in coding and interpreting Rules & Formulas.
Comprehensive knowledge and experience working with output drivers – PDF, AFP, HTML, HTML (email), PostScript, XML, and Doc.
Proficient in leveraging Exstream Viewer as an efficient medium for quick validations.
Ability to switch Exstream Workflow and Approval process.
Setup and configure batch and real-time solutions.
Application consolidation and multi-channel XML output.
Deep knowledge with OpenText Exstream modules:

Dynamic content import
eDrivers and pDrivers
Advances tables
High-volume delivery, output sorting/bundling
If you are considering a migration to OpenText Exstream or need assistance with an existing implementation, please contact us today to learn how we can help you.