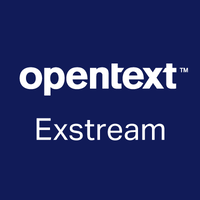 O
penText Exstream, a Customer Communication Management (CCM) suite, provides a highly flexible and scalable environment for event-driven integration to source systems, delivers communications through a multitude of channels and protocols, and orchestrates communication production jobs across a broad variety of industry verticals.
Exstream was originally founded by Dialogue Software in Lexington, Kentucky in 1998 and acquired by Hewlett-Packard in 2008.  OpenText, one of the largest independent software provider for Enterprise Information Management (EIM) solutions, acquired Exstream from Hewlett Packard in 2016.
What is Customer Communications Management
Customer communication management (CCM) is a planned strategy that enables organizations to design, manage & deliver all outbound communications across multiple delivery channels. A future-proof customer communication strategy allows an organization to deliver exceptional, continuous and connected communications and gain real-time insights into customer behavior.
This translates into a power-packed customer experience that increases engagement, drives revenue and promotes customer lifetime value.