W
ith roots going back over 30 years, GhostDraft is a relatively new product to the CCM world built out of experience servicing complex documents in the legal industry. As a true cloud-based offering, GhostDraft offers an innovative and scale-able approach to customer communications that provides dynamic document creation capabilities and subscription-based pricing that can evolve and grow with your business.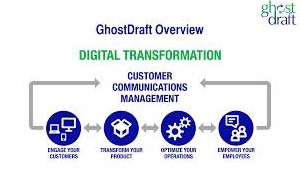 In our experience, GhostDraft offers the easiest path forward for legacy Calligo/IStream customers who are looking for a replacement platform that is cost-efficient and least impactful to the business. With an approach to document design and assembly that is similar to Calligo/IStream's, it's is a good option for any organization looking for straightforward conversion options now that Oracle will be ending all support for IStream Document Manager and Publisher within the next couple of years.
Our GhostDraft Services
Whether you're facing a Calligo/IStream conversion or simply looking for a business centric document generation solution and need some assistance, our team of experts can help. Our GhostDraft services include:
Strategic solution planning and design including the establishment of cloud-integration infrastructure and necessary roles and responsibilities for production roll-out.
Proficiency in all GhostDraft tools including Prologue, Studio, and Data Workbench.
Expertise working with simple and complex template design and dynamic assembly in a Word-like Studio environment.
Expertise with XML domain-model creation and mapping in Data Workbench.
Design of smart web-forms for data-capture accessible via Prologue.
Application integration with assembly and data-mapping web services.
Application design and development services for custom integration with Prologue for web-based data-capture.
Assistance with run-time configuration and post-processing integration.
Utilities to stream-line Calligo/IStream conversions including the extraction of content, business-logic, and fields for ingestion into Studio.
On-premise or cloud-based production support.
Contact us today for more information on the GhostDraft product suite or to obtain assistance with your CCM project.