S
o, you have countless legacy forms that need to be converted to a new system, but you're not sure where to start. Do you run a simple conversion, or do you need to think about re-design to take advantage of features offered by the new publishing platform? How do these decisions impact your implementation and ongoing maintenance costs, and what things should you be considering now in order the prepare properly and ensure a timely and efficient roll-out?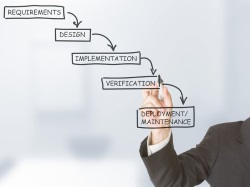 We're the forms authority
When it comes to forms, we've seen it all. Everything from complex legacy conversions to new implementations, DEC pages and schedules to free-flowing correspondence applications, we've worked with just about every type of form solution imaginable. We've also converted thousands of legacy forms to new systems while applying best-practices methodologies that determine when to convert as-is and to when to re-design from scratch for re-use.
DocVentive provides comprehensive Library Services offerings ranging from development expertise to forms maintenance and distribution programs: